19 September 2019
Örebro, Sweden
19 September: Umbraco Sweden Festival | Örebro
Can you believe it's already time for the 2019 Umbraco Sweden Festival? You have your ticket, don't you? 😉
It's not too late if you don't. Head over to umbracofestival.se and secure your ticket today! In a fantastic collaboration with Umbraco HQ, attendees to the festival are also eligible for 50% off a single official Umbraco Training course.
This year's festival is going to be incredible. We've got 13 seasoned speakers whose talks will inspire and amaze you. We're pleased to bring you Umbraco's Niels Hartvig, Google's Nuria Gonzales-Candia, Umbraco MVP Callum Whyte and many more. You'll learn all about performance optimization, Umbraco 8 and E-commerce, as well as Umbraco HQ's talk Umbraco 8 — After the w8 here is an upd8, in which Claus Jensen and Bjarke Berg will talk you through latest Umbraco 8 features and improvements.
We can't wait to show you Örebro. All the strings are being pulled to make sure this is going to be one of the best festivals yet. I mean, the after party is hosted in a castle. How cool is that?
Check out all the session and get your festival tickets now!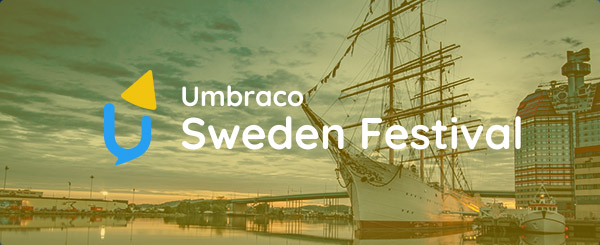 16 November 2018
Gothenburg, Sweden
16 November: Umbraco Sweden Festival
A new and improved Umbraco Sweden Festival is back! It takes place on the 16th of November in Gothenburg. Last years festival was a hit, but this year it is going to be even bigger and better with fourteen different speakers, great venues, networking opportunities, good food, drinks and parties.
We wanted the Umbraco Sweden Festival to contain something for everyone, so we included a business track with talks about e-commerce management and brand building. And just like last year the festival will offer a lot of high quality tech talk on the latest Umbraco news. As on any Umbraco event a lot of interesting people will get together and it will be a perfect opportunity to network and gather new knowledge!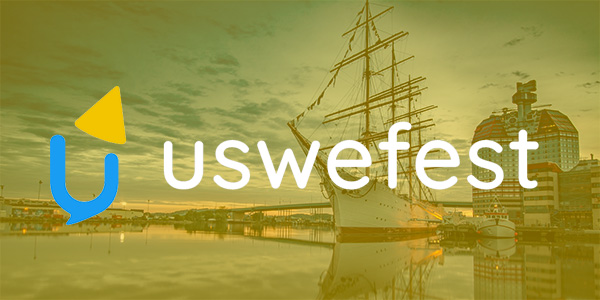 07 April 2017
Gothenburg, Sweden
The best Umbraco festival arranged in Sweden ever. The only one, but anyway ...
by Emma Ekholm
Why should you go to uSweFest?
I'm certain that the 7th of April will be a day to remember. It's a day for new experiences, learning, meeting new people, eating good food and having a lot of fun at this first Umbraco festival in Sweden. We at Webmind are thrilled to have some of Europe's most experienced Umbracians as speakers and workshop hosts, and I'm 100% confident that everyone who works with Umbraco will find this day very motivating. The festival will go on from early morning until late at night and the schedule will be packed with sessions, workshops, mingling and popcorn. If you are hooked on Umbraco, don't miss out on this day!
What else is great about Gothenburg besides uSweFest?
One thing we at Webmind appreciate a lot is beer — preferably a nice craft beer at that. Gothenburg is called the Swedish capital of craft beer because of all its microbreweries and pubs who focus on quality rather than quantity. You can always go to a pub and enjoy a nice cold beer that you never tried before.
As Gothenburg is located near the coast of Sweden, you can get some of Sweden's finest seafood; we'd love to recommend to you the best places.
If you like wildlife, the Universeum is the largest Science Centre in the Nordic region that brings together animals, nature, technology, and experiments. You begin by a Swedish mountain stream, dive down into the depths of the ocean and much more before you end in an amazing rainforest.
Unfortunately, the amusement park Liseberg won't be open until the end of April which means that you will miss out on Balder, one of the world's best wooden roller coasters.
Who are Webmind then and who am I?
Webmind is a six-person web agency, looking forward to the day where we have found the right people to call us a ten-person web agency. We specialize in Umbraco and e-commerce and we are a team who are passionate about building a great web. Among our customers, you'll find companies such as Volvo, Lambretta Watches, and The Swedish Enforcement Authority. My name is Emma, I'm a co-owner of the company and actually the one that came up with the name Webmind nearly thirteen years ago. I mainly work with our brand uSite — template-based sites for our smaller customers.
Do we want to thank anyone?
Yes, we do! We want to thank all the great people and companies that make it possible for us to arrange uSweFest. Niels Hartvig, Lars-Erik Aabech, Markus Johansson, Anders Burla Johansen, Søren Spelling Lund, Tim Geyssens and Marcin Zajkowski, we are happy and grateful to have you with us as speakers and workshop hosts during this day. And Umbraco and uCommerce, we are very thankful for your sponsoring.
Are you going to buy your ticket later?
If you are thinking of joining us, don't wait too long. Out of the initial 70 seats, there're only 20 seats left. Get your tickets today! Looking forward to meeting you in April! I'll be one of hopefully at least 10 women there.
Follow @uSweFest on Twitter to get the latest information.
---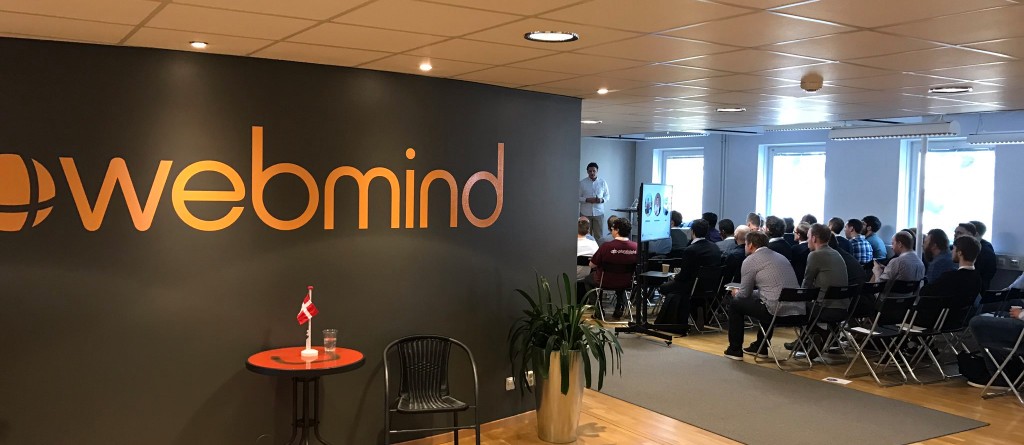 Photo by @umbraco
uSweFest: A Recap
by Dennis Adolfi | Webmind
It's already been a [month] since we hosted Sweden's first Umbraco Festival, uSweFest 2017, in Gothenburg. It took eight months of serious planning. Countless meetings, emails, phone calls, tweets and blog posts resulted in what we like to call a huge success! In this post, I'll try to take a step back and look at what we've done and how we got started.
You've probably heard the story already, but in case you haven't, here is the short version. We've been hosting Umbraco Meetups here at Webmind for a few years now, and they've been growing steady every year. At our latest meetup, we realized that this had become so popular that it was time to turn our annual meetups to a festival instead. We were completely unaware, and maybe a bit naive of the amount of work behind planning a festival for over seventy people. A lesson we've learned and despite all the challenging work, we never regretted hosting the festival for a second. It can only get easier from here, right?
The day before the festival we had a little pre-gathering for all our sponsors and speakers. Nothing fancy, but a chance for us to show a little extra gratitude to everyone who made this festival possible. We shared some pizza, had a few beers and played some fuzzball. I can highly recommend anyone hosting a festival to do the same thing, it´s a great opportunity for speakers and workshop hosts to get familiar with each other, the environment and the technical equipment, instead of having to do that on the festival morning.
Then came the festival day. We started the day with breakfast and mingle, after which we jumped straight into the program. We had pretty tight program, because we wanted to fill in as much knowledge in one day as possible, but we made sure to have a lot of coffee and beer breaks in-between sessions, so that attendees could have a chance to breathe, reflect on what they've just learned and discuss it with the other attendees. Also, when there is lots of screens, mics, music, webcam and computers to hook up, it's nice to have a bit of space in-between sessions. Plus, we all know that the magic at these festivals usually happens in-between sessions, when you share experiences, make new friends and connections. It was a lot of that going on at uSweFest.
Lunch and dinner fell into our laps like a gift sent from above, just a few days before our festival a restaurant in the same building as our office opened, just a few minutes walking distance. This restaurant focuses on vegetarian and vegan food, something that is very close to our hearts at Webmind. It was a perfect fit for our festival since we wanted this event to have as little negative effects on the environment as possible. We also made sure to separate all our waste, and made the decision to skip swag-bags, which usually contains a bunch of commercial stuff that eventually ends up in the trash. Instead, we made a smaller swag-table where attendees could pick what they wanted to bring home and leave the rest for someone else. It's an alternative that we're very proud of and I think people appreciated it.
Obviously, you can't have a festival without an after-party. After a long day packed with sessions and workshops, it´s nice to put on a groovy playlist, crack a few beers open and discuss Umbraco with your new friends.
The whole festival turned out even better than we had hoped and we also hope that everyone who attended uSweFest feels the same way. We want to give a massive thanks to Nik Wahlberg and his team behind uWestFest, for all the help and tips we got when we started planning this festival. This community really is amazing! If you want to organize a festival like this, make sure to get in contact with someone who's done it a few times before, so you don't have to repeat the same mistakes as they might have done in the beginning.
Also, a huge thanks to our sponsors Umbraco and uCommerce, without them this festival wouldn't have been possible. To all our speakers, workshops hosts and guests, all of you who made this possible and an even greater day, thank you! #h5yr