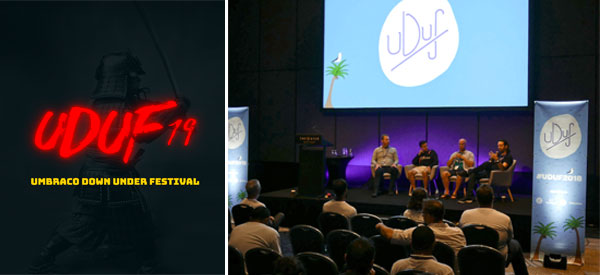 01 March 2019
Gold Coast, Australia
Returning 1st March: Umbraco Down Under
Enter the Umbra-Dojo
The Umbraco Down Under Festival (UDUF) is just over a month from now, and the festival team are hard at work to ensure that this year's festival is another one to remember. Pre-festival events start on the 26th of February and the main event on the 1st of March. Join us on the Gold Coast, with beaches as far as the eye can see, make this year's festival your short getaway and increase your knowledge in all things Umbraco. This is a festival that you cannot miss with Umbraco 8 on the horizon and with Niels Hartvig, the Founder of Umbraco delivering the keynote address, there is sure to be exciting news!
This year UDUF will showcase excellent speakers including Shannon Deminick: Giving you the key points of package (plugin) development in Umbraco 8. Simone Chiaretta: spicing up Umbraco with Artificial Intelligence, Peter Gregory and Mario Lopez: On how they combined Tea Commerce and VueJS to deliver an innovative donation solution for a large not for profit, Callum White: Giving you hot tips for structuring your next Umbraco project, Aaron Powell from Microsoft: Making your Umbraco project testable, Well-being guru Kris Deminick: Highlighting the importance of your physical, mental and creative health, and topics from other amazing speakers including headless CMS, Umbraco 8 content apps, proposal writing to name a few, all kickstarting and providing inspiration for your move to the next generation of the Umbraco CMS.
For those looking to make a serious commitment to their Umbraco expertise, there will be official Umbraco certification courses running on the 26th and 27th of February. Festival Entry is included when you sign up for one of the courses. You can secure your spot now at https://uduf.net/.
Hackathons have become a staple event at Umbraco festivals worldwide and UDUF 2019 will be no different. Last year's hackathon was an amazing success with developers making their mark by contributing over 20 pull requests to the core and the documentation. Niels Hartvig and Shannon Deminick from Umbraco HQ were on hand to provide assistance and will be there this year. The Hackathon will be held on the 28th of February and is your chance to improve and enhance your favourite CMS.
Also included in your festival ticket is the Pre-Party on the 28th Feb held at the QT Hotel. A night filled with great food and drink. This is an opportunity for you to meet and get to know other Umbracians from Australia and abroad. Share your ideas, experiences and contribute to the future of the Umbraco CMS.
Make sure you register before the 31st January to get access to the Early Bird price. Check out https://uduf.net/. For more information on the speakers, the venue and everything else you need to know.