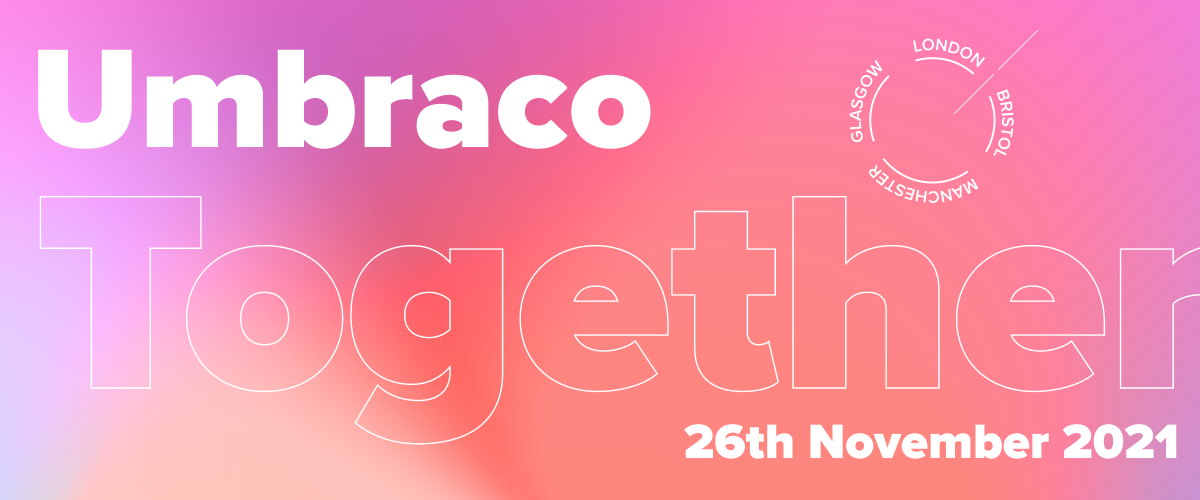 26 November 2021
Glasgow / London / Bristol / Manchester, UK
Getting Umbraco Together
At this point in-person events feel like distant memories. In the UK we were fortunate to have Umbraco Spark just before the pandemic struck, the last big in-person Umbraco since. By the end of 2021 we'll have missed out on 2 Umbraco UK Festivals (attracting over 300 Umbracians to London each year) and on Spark returning for it's 3rd year... I was surprised how much I enjoyed the first few virtual events, connecting with people across the world I wouldn't have been able to otherwise, but they're certainly no match for making great memories in-person with friendly Umbracians the world over.
I've thought many times about how we could bring these experiences back to life, but contending with keeping people safe and the uncertainty brought by COVID has put a stop to that. Running events can be thankless at the best of times!
But it feels like it's time to try and get Umbraco Together again...!
I'm excited to invite the UK community to join the first ever distributed Umbraco Festival, on November 26th in London, Bristol, Manchester, and Glasgow! As it just isn't possible to gather in one place at the moment we thought what better way to celebrate all things Umbraco than with 4 "mini-festivals", each in the biggest local communities around the UK. The events will be in-person, but we hope to connect the venues with some virtual elements throughout the events.
Umbraco Together will showcase the best talks the community has to offer; including Umbraco 9, technical deep-dives, how-to's, case studies, inspiring stories and more from Umbraco HQ and the community. The call for papers is open until October 31st. Whether you're a seasoned pro or this would be your first talk, please do submit your ideas and we can work with you to flesh them out.
Of course the top priorities when organising the events has been keeping them as COVID safe as possible while also remaining accessible to as many people as possible. We have 4 wonderful boutique cinema venues lined up, with capacities capped at half and air fully refreshed every 2 minutes to maximise distancing and comfort, all for just £25 per person. Tickets are on sale now
This also marks the official launch of the Umbraco UK Foundation, a non-profit organisation dedicated to supporting the community around the UK. We're beginning the process of onboarding supporters as well as preparing to announce our board. Over the coming years we want to use this as a way to grow and support a wide range of activities, including helping meetup groups become more welcoming, supporting speakers with travel expenses, and ensuring underrepresented groups have a chance to get involved in the community.
Follow @umbUKfdn on Twitter for more news and updates, and we hope to see you there on November 26th!