Embracing the 36-hour Workweek and Its Impact on Company Culture, Health, and Productivity
Here in America, the informal definition of summer is the period between Memorial Day, near the end of May, and Labor Day, near the beginning of September. Summer is beloved — even more so to those living in regions that experience a harsh winter. It allows us to spend time outdoors: feeling the sun on our skin, the wind in our hair, and the adventure of the great outdoors, all without the fear of freezing to death. Kids play in the pool, and parents perch under an umbrella sipping margaritas and reading books. We look forward to summer and savor it.
Here at Blend Interactive, a digital agency in the heart of the Midwest (Sioux Falls, South Dakota), we experience all four seasons. Which means summer constantly feels too short. For this reason — to spend more time with family and friends during this coveted time of warmth — Blend introduced "Summer Hours," where we close for business at 1:00 pm every Friday and schedule around a 36-hour workweek. 
When implementing "Summer Hours" a few years ago, we expected a hit on our bottom line. It was a risk worth taking: an investment to improve our team's work-life balance and overall happiness.
But something interesting happened. Our billable revenue didn't change. How can that be? 
On paper, the math backs up a hit to the bottom line: if a 40-hour workweek billed at $200/hr* nets $8,000, a 36-hour workweek would only net $7,200 — a net loss of $800 per person per week. Multiply that by the number of billable employees, and it adds up very quickly.
Yet, we didn't see a negative effect. Was it Parkinson's Law? Was it a lack of metrics around the utilization rate? Were we tracking time incorrectly? Or are employees simply more productive with longer, extended weekends?
But something interesting happened. Our billable revenue didn't change. How can that be?
We didn't have the exact answer to why we didn't lose money. All we knew was that our profit and loss remained unaffected by Summer Hours. Now, several years later, we have a bit more insight. Let's investigate why removing Friday afternoons from our workweek hasn't had a negative impact on the company.
The Parkinson's Law Effect
Parkinson's Law correlates the relationship between time and productivity, suggesting that work expands to fill the time available for completion. I know I've been guilty of this on occasion — give me a whole day to write this article, for example, and I can promise it will take me the entire day —if not a little extra!
However, Parkinson's Law suggests that when we have less time to complete a task or a ticket, we subconsciously force ourselves to focus our attention and utilize our resources more efficiently. This sense of urgency increases productivity, improves task completion rates, and nips procrastination in the bud — all while freeing up precious hours outside the office.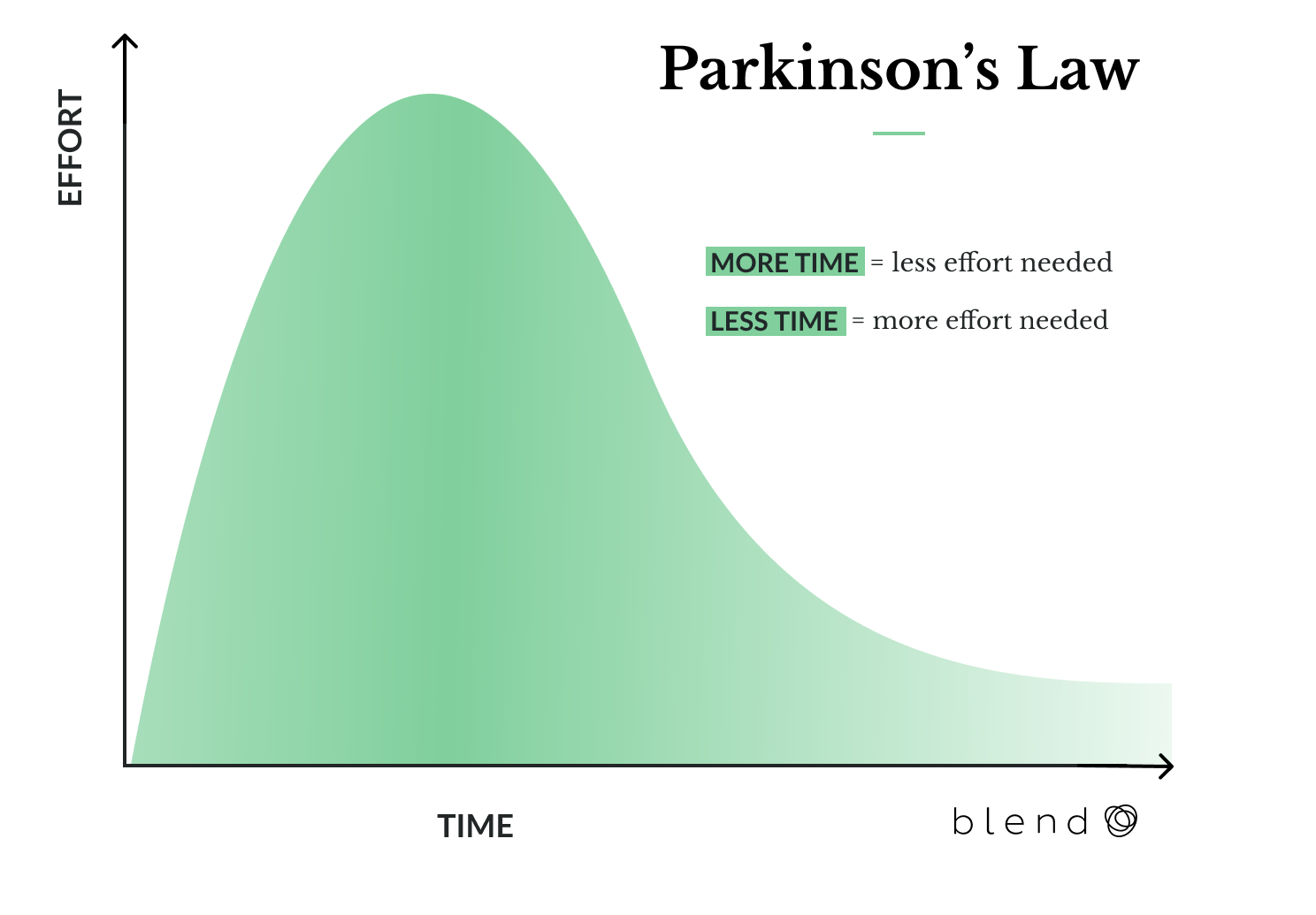 It's possible that with compressed deadlines and allocated time blocks for focusing on specific tasks, our team may be utilizing the power of Parkinson's Law to their advantage. Knowing that the tradeoff is an extended weekend could be incentive enough.
Time Entry and Billable Expectations in a Shortened Work Week
First, we make realistic expectations and plan around them.
No one likes entering their time. And, with shorter workweeks and flexible schedules, we've realized traditional time entry methods may not cut it. For this reason, we aim to make time entry as easy as possible.
First, we make realistic expectations and plan around them. We plan our weeks in sprints from Wednesday to Tuesday, which allows the weekend to provide a good mid-sprint checkpoint to do a gut check on which work items will make it in the sprint.
Second, we plan for our team to be billable for at least 32 of the 36 required hours. Using this measure, and employing time tracking within our ticketing system, we can make assumptions about how far an employee is through their sprint by the time Friday afternoon rolls around. Everyone assumes they're on track when the weekend rolls around — these expectations and measurements allow us to be sure.
Finally, we've worked through a realistic measurement of how productivity and utilization affect our bottom line. And we're constantly reviewing these measurements. For example, until recently, the project management team had been scheduling our production team for an average of 32 hours total rather than 32 hours billable. Internal meetings and operations time — time that should be covered within their non-billable hours — were included. Somehow, we were still profitable with that oversight, but that meant that our primary source of revenue was significantly underutilized each week.
These things are easy to discuss with my "business owner" cap on. But, if you're in production, you must understand how much time tracking affects the overall health of your company and the impact that every single person can make on the well-being of a business. At Blend, we addressed this by ensuring each employee has their own billable expectations based on their role in the company. Not everyone has the same meeting responsibilities or internal tasks, so it's too hard to generalize.
We're also doing our best to reduce the number of internal meetings. Blend runs on EOS — the Entrepreneurial Operating System — so we recognize that focused weekly meeting time is essential, both for open communication, and for how it alleviates the need for distracting impromptu meetings throughout the workweek. These meetings are a significant investment we're willing to make to ensure our business runs like a well-oiled machine. Having everyone on the same page, with clear priorities for the next seven days and beyond, is crucial to productivity, ambition, and focus in an abbreviated workweek. It also helps us minimize context switching - each new meeting requires the team to switch tasks. While necessary, it's important to keep meetings to the right number and ensure they're worth the costs.
The Power and Health of Taking Time Off
"Rest, Rejuvenate, and Recharge: Prioritizing Health for a Happier You" sounds like a book title. But at Blend, it's a mindset that we strongly believe in. Instead of promoting a culture that leads to a team of sleep-deprived zombies running on caffeine and stress, we believe in making time for self-care and rejuvenation. Our shortened workweek allows our team to embrace the power of rest, catch up on sleep, or invest in their well-being. The hope is that it will enable everyone to bring their best self to work each day — and there is research to prove it.
A study from BMJ Open** suggests that well-rested employees are more productive, creative, and less prone to making mistakes. Additionally, a healthier workforce decreases absenteeism and reduces healthcare costs for employers. Adopting the 36-hour workweek can lead to a positive workplace culture, promoting work-life balance and supporting the overall happiness of employees.
We promote using PTO (paid time off) in addition to our shorter workweek. Our staff is encouraged to take mental health days if needed. Why show up at work when you're not ready to get the job done? It's up to us to evolve what a workplace and the workweek look like moving forward, and it's not all about productivity and profits – taking time off is essential for your mental and physical well-being. 
"Rest, Rejuvenate, and Recharge: Prioritizing Health for a Happier You" sounds like a book title. But at Blend, it's a mindset that we strongly believe in.
A Culture Based on Trust
We believe a 36-hour workweek can promote our healthy company culture in several ways. But, it's important to note that the success of implementing such a policy depends on many factors, including the nature of the work, industry standards, and your company's specific goals and needs. 
There are 25 employees at Blend, including designers, developers, strategists, project managers, and operations. It's a collaborative group of people working towards the same goal: to make websites "better" for our clients and to be a trusted guide throughout the process. 
We try hard not to micromanage our team and instill trust in our employees to do the right thing — to the point that "integrity" is one of our core values. We believe having a strong company culture has benefited us in many ways, including:
Attracting and Retaining Talent: Offering a 36-hour workweek has been an attractive perk for potential employees, making our company stand out from competitors and leading to higher retention rates.
Reduced Absenteeism: Improved work-life balance and reduced stress have led to fewer sick days and lower absenteeism. Providing a flexible workweek has helped, too.
Company Image: We prioritize the well-being of our employees and have a good reputation amongst our clients, partners, and the general public. Although a health-focused culture can enhance our company's reputation, we do it because it's the right thing. We even won Inc. Magazine's Best Workplaces designation a few weeks ago!
Employee Engagement: Fingers crossed, our team feels that we value their well-being and are more likely to be engaged, motivated, and committed to Blend's success. We have a profit-sharing program to show them how much that commitment matters and how their hard work affects Blend's bottom line. 
Our Ongoing Plan for A Shorter Workweek
Summer Hours continue at Blend, with one significant change: "Summer Hours" are now "Normal Hours" year-round.
Why? Because a couple of years ago, I was sad when Labor Day rolled around and we were expected to return to the traditional workweek. One of the greatest privileges of running a company is that you shape and form it into a place where you want to work. We cross our fingers and hope that others share our feelings, too. So far, it is working out, and the 36-hour workweek represents a progressive shift in our understanding of work culture, health, and productivity. We proved that work-life balance isn't a myth – it's a reality we can all embrace.
"In the end, what matters is that we do good work on time and on budget, and meet the number of billable hours we're planning for in a week. If we have a good plan, and we execute that plan, the specifics of when someone is sitting in a chair at their computer doesn't matter much."

- Joe Kepley, co-founder and CTO at Blend.
Well said, Joe. Onward.


* Example purposes only. Insert your hourly rate here
** https://www.ncbi.nlm.nih.gov/pmc/articles/PMC8977802/