At The Cogworks we are fortunate enough to host two fantastic Umbraco community events; the original Umbraco UK Festival which is going into its 8th year this year, and also one of the newest Umbraco festivals in the world, the Umbraco Poland Festival!
We first organised Umbraco's 5th Birthday celebrations in London back in 2010 as a way to bring the community together and we have been hosting annual Umbraco festivals here ever since. The UK Festival has quickly become the biggest Umbraco community organised event in the world, and the 2nd biggest Umbraco conference behind CodeGarden, welcoming over 300 people to London each year for 2 days, packed full of Umbraco goodness.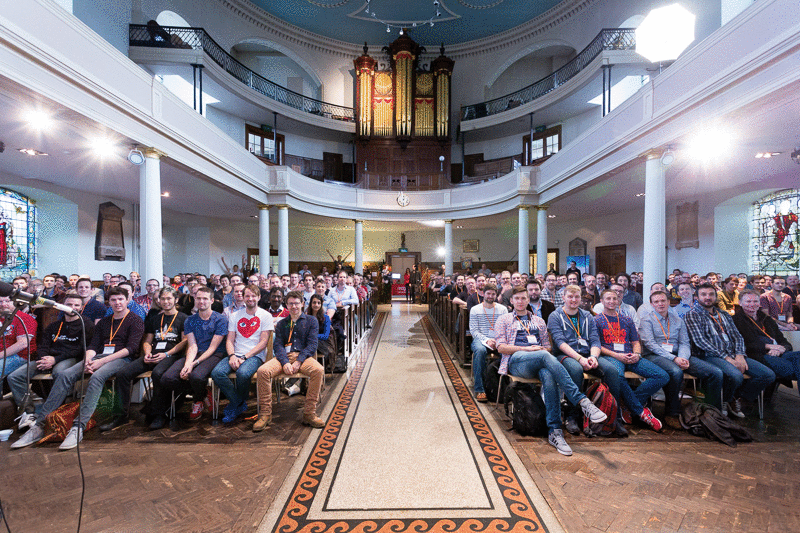 As you can imagine, we've learnt a lot through the years about what goes into putting on a great conference. Much like many other groups who have been inspired to host their own local community events, we're Umbraco specialists but this speciality didn't extend quite as far as organising large-scale events back in 2010! Each festival is organised entirely in-house so we've had to learn the ropes of how to put on a world class conference on our own. We run the events for the love of the Umbraco community and tickets are sold at cost - in fact when we account for our time spent organising we make a loss.
It is easy when attending one of the fantastic Umbraco festivals all over the world to overlook the amount of work that goes into ensuring you come away full of knowledge and feeling energised. I want to share The Cogworks' top 5 tips to running a successful Umbraco festival, through the story of how we've transformed the Umbraco UK and PL festivals over the past few years.
Build a solid foundation
In April 2016 we kicked off planning not only our biggest Umbraco UK Festival ever, but also simultaneously the first ever Umbraco Festival in Poland. I was given the challenge of organising the event, which was both an exciting and scary prospect. Having been a part of the Umbraco community for a few years prior to joining The Cogworks, I was already aware of The Umbraco UK Festival (and had attended) but I'd never organised a large tech event before!
Those that know me will likely tell you I'm a perfectionist, so I made it my personal goal to "level up" the UK Festival and make it even better than previous years. Our goal was to evolve the event into a more polished format that could grow the community and be easily replicated in Poland too. "Level up" felt like an apt motto for 2016 as a whole, and ended up fitting nicely with our game focussed theme for that year's UK Fest.
I first set out by reviewing what we had done in previous years and the feedback we received to find where we could improve. I initially worked to streamline the "Festival" brand and find a way to easily replicate the success we had in the UK over in Poland and in order to do so the brand needed to be solid. In years gone by there was a lack of regular content and we didn't have clear guidelines to use when promoting the event, which sometimes resulted in confusion around which hashtags to use, where people should look for updates, information about tickets, etc.
If anyone in the Umbraco community were to say the words "UK Fest" to you, chances are you'd have known what they were referring to. Our event had an identity that was already known within the community, but we found it just wasn't coherent enough in our branding or marketing of the event! To clear things up we decided to implement some changes, we:
Introduced new domain names for each festival site comprising of "Umbraco festival" and the relevant country code, e.g. "umbracofestival.co.uk" and "umbracofestival.pl"

Introduced a single unified hashtag to be used for each event that was easy to remember, e.g. #umbUKfest or #umbPLfest
Created individual Twitter accounts for each of our Umbraco festivals, with a schedule of regular content and built up a following. All festival related content was now to be posted from these accounts and cross-promoted from other Cogworks accounts to build the credibility of the festival accounts
Began developing a "language guide" containing core terms to be used to describe the event, and detailing the correct context to use each one in, to ensure we were always consistent in our communications
With these changes we saw some dramatic results. In just 1 year our festival Twitter accounts have over 650 combined followers, and 2016's UK Festival saw the most engagement on social media we've ever had! People now know where to go when they want to see UK or PL festival news, and actively engage in the content we post throughout the year on these channels. Additionally, these profiles now reach people who had never heard about the conferences before and help us grow the community.
Feedback is King
You may be surprised to hear that planning for next year's Umbraco UK Festival actually starts just a matter of days after the event finishes. As we strive to make our events better every time, we send a survey to attendees and collate the feedback (good and bad) for review. We ask for scores on a range of criteria such as venue, talks, catering, how likely they are to return, along with a written testimonial.
Developers LOVE to complain, so during the 2016 UK Festival we actively monitored Twitter for feedback and tried to be proactive in resolving issues as quickly as possible - with 300+ people in the venue it's the quickest way of hearing of any issues. In the weeks after the festival, we went back and reviewed the social media activity both during and after the event, to officially record any feedback. We then picked out what went well and discussed where we could incorporate it into the following year's event before any plans were made. I'd argue this feedback is the most valuable to us, as it gives a great insight into an attendee's feelings at multiple points throughout the day, rather than on reflection, making it easier to pinpoint problems. Also, the sheer quantity of posts we get in comparison to the number of surveys completed means we have a bigger pool of feedback data!
Pick the right time
Choosing a date is the logical first thing to do when planning an event, but getting it right is key. We aim to make our events accessible to as much of the community as possible, especially those travelling from further afar.
In recent years we've tried to find dates that avoid any major public or school holidays. Juggling this can be tricky, as different places in the world may have slightly different dates for things - even in the UK our schools can have different holidays!
Similarly, ensuring the event isn't close to other big Umbraco events is important. We've found late October or early November works great for the UK Festival as it's the only big Umbraco event around that time; it's exactly 6 months from CodeGarden and not too close to Christmas either. We've adopted September for Poland to gain the most of the glorious warm weather Krakow gets that time of year. We always plan for a Thursday & Friday to give people the opportunity to recover from the after party on a Saturday!
Find the perfect location
Finding the perfect venue for the conference is the biggest challenge faced. Unsurprisingly it's the thing we get the most feedback on - every year some people love it and others don't like it as much.
Space is a commodity in Central London, so finding somewhere with capacity for 300+ people to house the UK Festival can be tough. Considering that, as a minimum, we need 1 room that can seat 300+ (for the keynote and headline talks), a second room that can seat ~120, to allow us to run a 2nd stream of talks, 2 classrooms with a capacity for 20-40 each for workshops, plus some networking space for lunch and drinks! The size of the UK Festival currently is an interesting issue; we're slightly too big for some of the smaller venues, but not quite big enough for the larger ones - we're focussing on growing to make things easier.
By alternating between "corporate" and "quirky" venues we hope to keep things interesting. We've hosted Umbraco festivals in a church, a cinema, and on a boat before! This year's 8th Umbraco UK Festival venue is another alternative one, and is definitely the craziest but most exciting tech conference venues we've ever seen!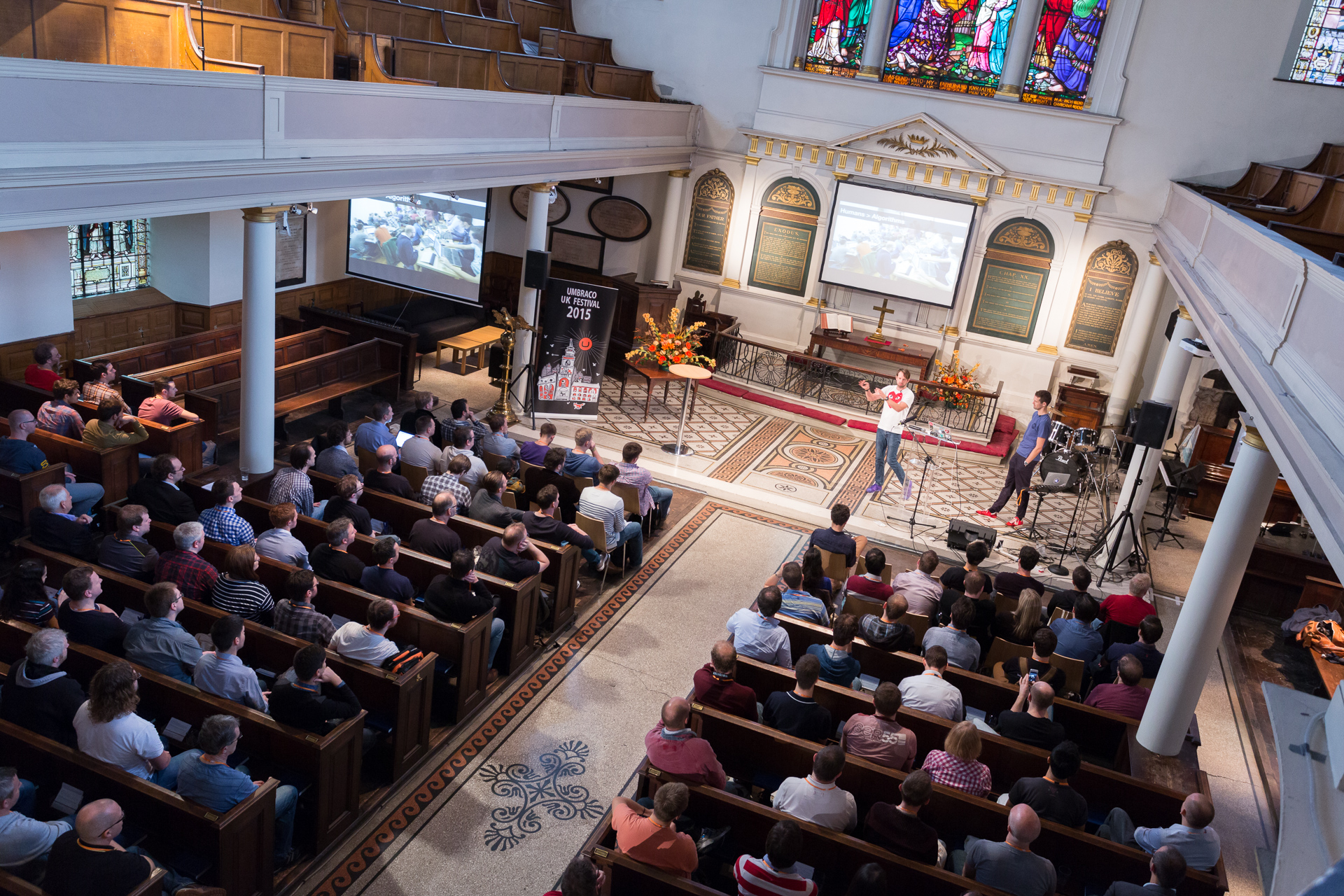 Last year we took the difficult decision to raise ticket prices for the first time in the UK Festival's history which was met with some scrutiny from the community. However, once we explained the reasons behind the increase most people understood that it meant we could continue to deliver the same high quality attendees had come to expect from the Festival, and that it brought the ticket prices to a more realistic price point in comparison to other conferences - arguably UK Festival tickets are still very cheap! The adjustment has also now given us more flexibility for future years.
Give a reason to come back
The goal of any Umbraco event organiser will be that people learn something, enjoy themselves whilst engaging with the community and, ultimately, come back! You may have nailed the promotion, the dates, the venue… but the contents of the day still need to be rewarding in order to keep the event alive year on year.
Having a wide variety of talks and workshops available is something every conference wants to achieve, and something the UK Festival has been doing well for a long time. In the months running up to a festival we watch the community to see what's hot, what's being talked about, or who's been making cool things and invite people to present in addition to the proposals we receive directly. People from outside of the Umbraco community are always inspiring additions to the line-up, and UK Fest has played host to a range of talks - from Docker, to Neo4J, UX or the Continuous Integration workshop I ran in 2016. We try to avoid repeating talks that have been given at Umbraco events before to give people something to get excited about. Many of the talks given at UK Fest in the past have gone on to be presented at CodeGarden; the Examine Bootcamp course from back in 2015 even went on to be an official Umbraco Certification!
Our "Community Space" was a new addition to the UK festival in 2016 - designed to be like a big meetup, giving people a place to give more informal or impromptu talks in a no pressure environment. We hosted some fantastic short talks in this room, some people even said these were their highlight of the festival! This is going to be continued this year in the UK and we're looking to inject even more diversity into the lineup through 3 streams of talks and workshops for Umbraco devs, front-end devs and design, and Umbraco end-users.
What you can achieve
Last year Cogworks' Umbraco Festival season was fantastic - we attracted over 60 people to our first Poland Festival and Per Ploug from Umbraco HQ called the 2016 UK Festival "the best Umbraco Festival yet". The feedback we received was overwhelmingly positive, but of course we've listened to the improvements we can make. Our learnings over the past 18 months have been baked into this year's events and I couldn't be more excited about what we have coming up. Our biggest UK Festival with the most awesome venue we've ever seen is coming to London on November 2 and 3 - tickets go on sale at 8am (UK) on August 8. The Poland Festival returns to Krakow on September 15 for another fantastic year. Everyone at Cogworks hope to see you there!