For those who haven't heard of it, Umbraco Spark is an Umbraco innovation conference held down in Bristol by the team at Gibe Digital. I sadly missed out on the chance to attend the inaugural event last year, and everyone I knew who went all raved about how good the conference was. As a result, I was determined to go this year. As it happened, I applied to speak with Paul Seal and we were accepted! My wish came true, woohoo!
I started thinking about how I would get down to Bristol. I live in Leeds, in the North of England, which is about 208 miles away from Bristol by car. I could drive, but that would leave my partner without a car, and as she'd need to take our daughter to school, that was a no go! I could get the train, but getting to Bristol is a bit of a ball ache, with several changes. And it wasn't that cheap. I could fly, an internal flight would be quite reasonable, but I wasn't happy with the idea of the carbon footprint, just for an overnight stay for a conference.
So I had a good long think. I have a very good gravel bike that was pretty much designed for bikepacking. I looked at the distances involved, and decided I could do the journey easily in about three and half days, slightly faster if I pushed it really hard. Where would I sleep? I quite fancied the idea of some wild camping, something that's been on my list for a while (wild camping, in March I hear you cry? Why yes, that is a bit crazy). I began to hatch a crazy plan. I could set off on Monday the week of the conference aiming to get to Bristol by Thursday. I'd do the Spark conference, and then hire a car and drive back, bringing several of the other Leeds devs back with me, making me feel a bit more ecologically friendly (plus, my partner was never going to let me spend nearly two weeks going to a conference if I cycled both ways).
Then I thought, this would be more fun if there was someone else involved. I had a good long think and decided to ask Pete Duncanson if he fancied joining me. I knew he'd done some hardcore bikepacking in the Alps and knew much more about wild camping than me. And I also knew that Pete is always up for an adventure! I asked him, and he was up for it! We plotted and schemed, and then, disaster struck! The two weeks before we were due to set off, the UK was battered by heavy storms and there were floods everywhere! We kept watching the forecasts and then we caught a break. The week of the conference, the weather was going to be mostly decent!
We were able to have someone bring our conference stuff over to Bristol with them, which was a bonus, as that was less stuff to carry. I proceeded to pack my gear for the trip. In hindsight, I packed waaaay too much stuff, quite a bit of my kit didn't get used. But this being the first multi-day bikepacking trip I'd rather have taken too much than not enough.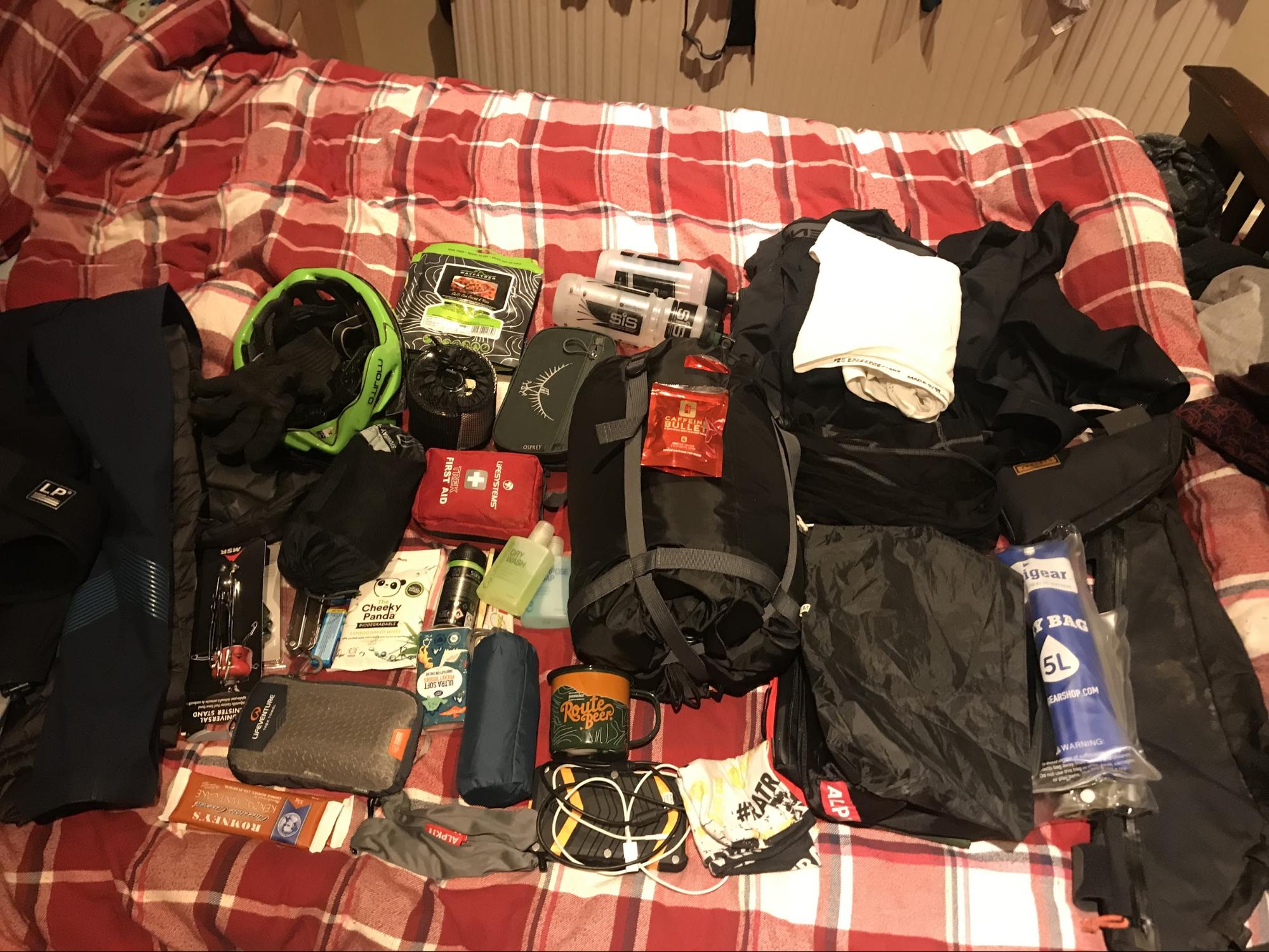 The morning of the trip arrived and I loaded up all my kit into my bikepacking bags and got them on the bike. I just about managed to get everything to fit, but I sure wished I wasn't allergic to feathers so I could have had a much smaller sleeping bag though!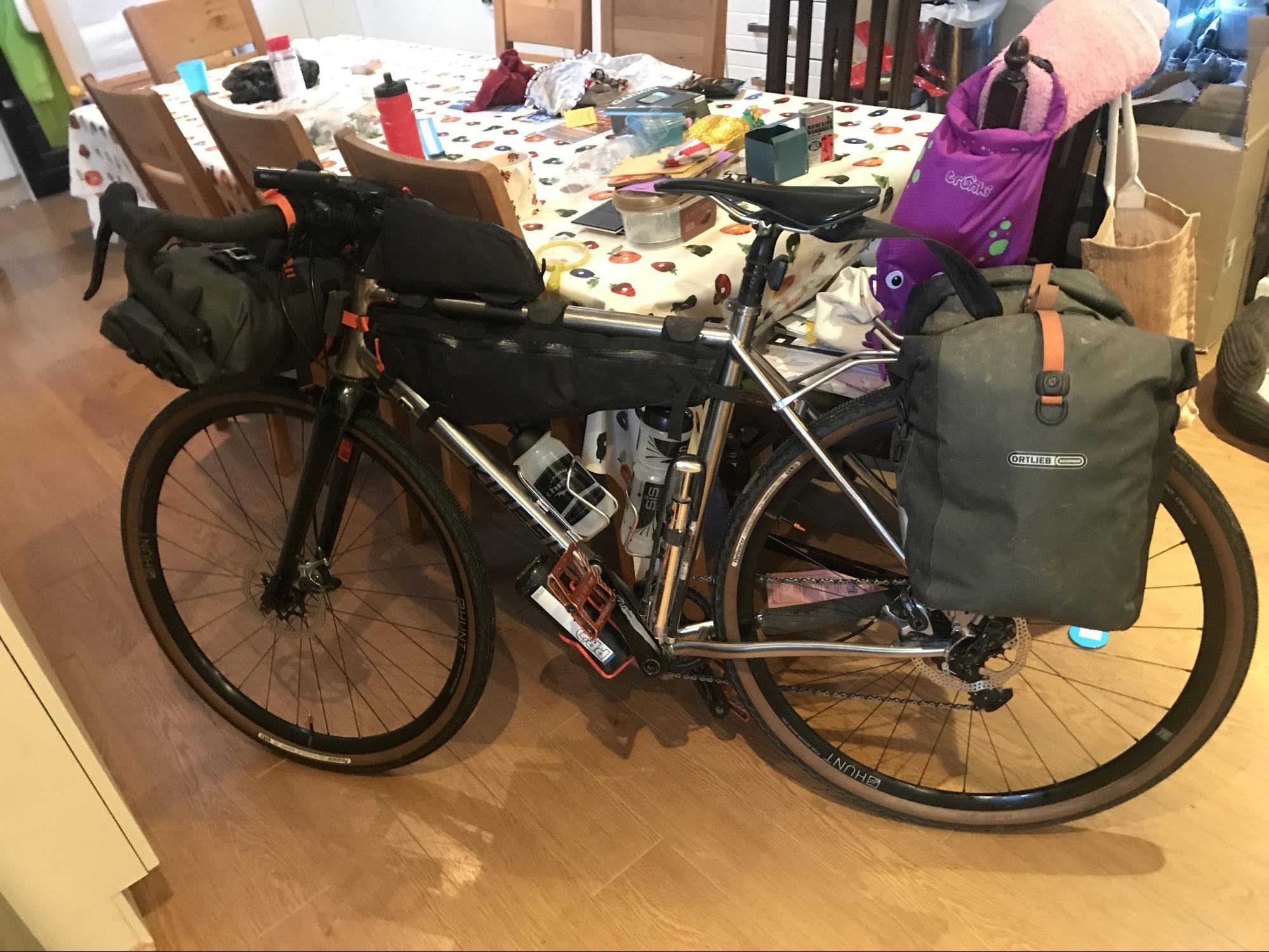 I pushed my bike to my daughter's school in the morning for the school run (and got some very bemused looks from my fellow parents, as well as a few wishes of "good luck" and "I think you're crazy" from those who knew what I was up to). I hugged my daughter goodbye, and set off on my journey over to Huddersfield to meet up with Pete and begin the journey proper.
Straight away I had forgotten two things. I had to cycle up a VERY long steep hill, and I had to cycle around the edge of Bradford. The hill was an unpleasant shock to the system, especially with a heavily loaded bike. Driving round Bradford can be scary enough, but it turns out the bike lane provision is decent. However, it doesn't really help if all the drivers are trying to kill you. With considerably grayer hair and aching legs, I got out onto the country trails to get to Pete. I arrived with him around lunch time and he gave me a huge bacon and egg sandwich which was just what the doctor ordered!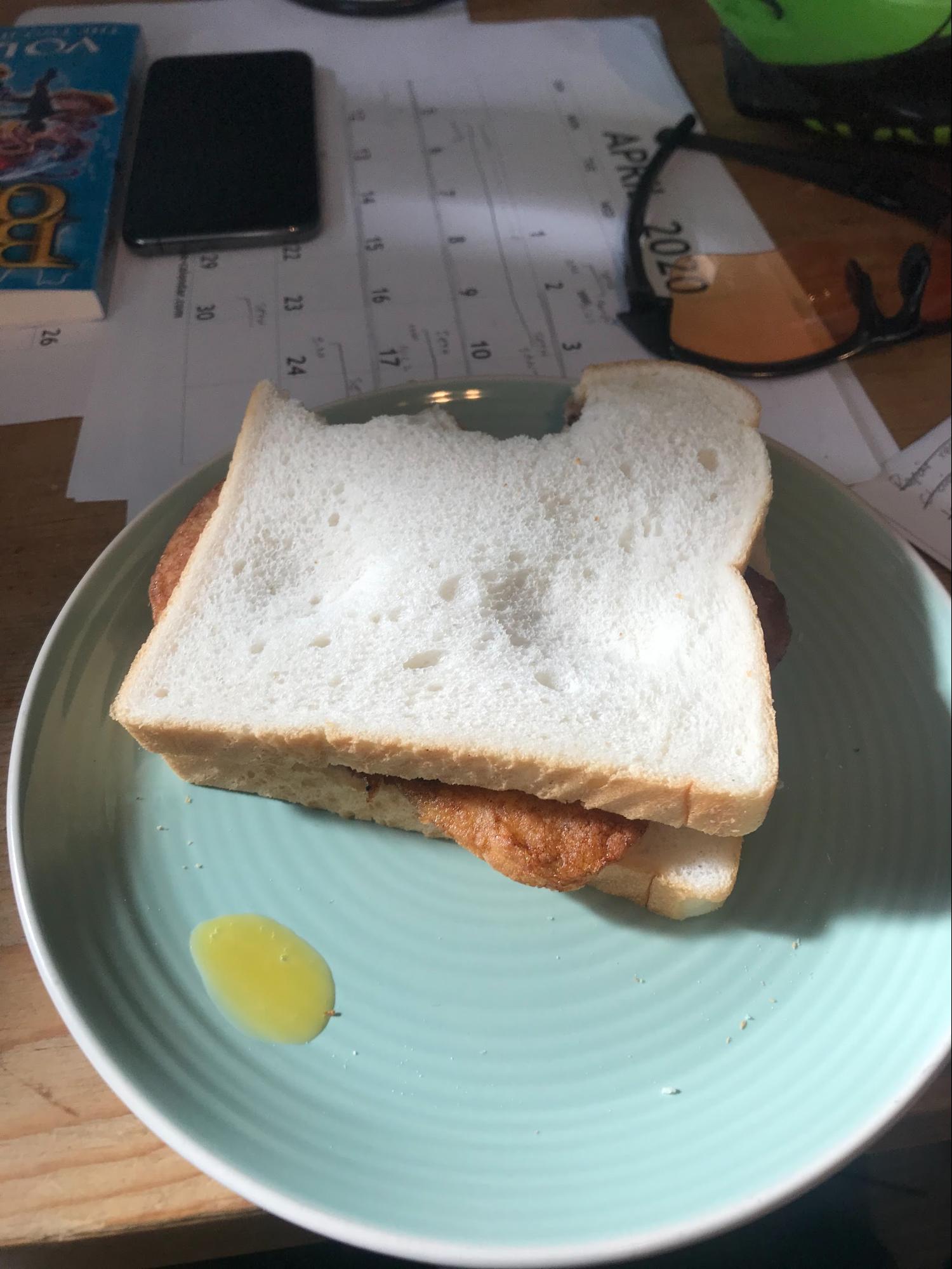 As Pete was getting ready, the heavens opened and it started hailing quite heavily, despite having been gloriously sunny right up until then! Once Pete was ready, we loaded up our trusty steeds and headed up a ridiculously steep hill to climb out of the valley he lives in. The views at the top were well worth it though!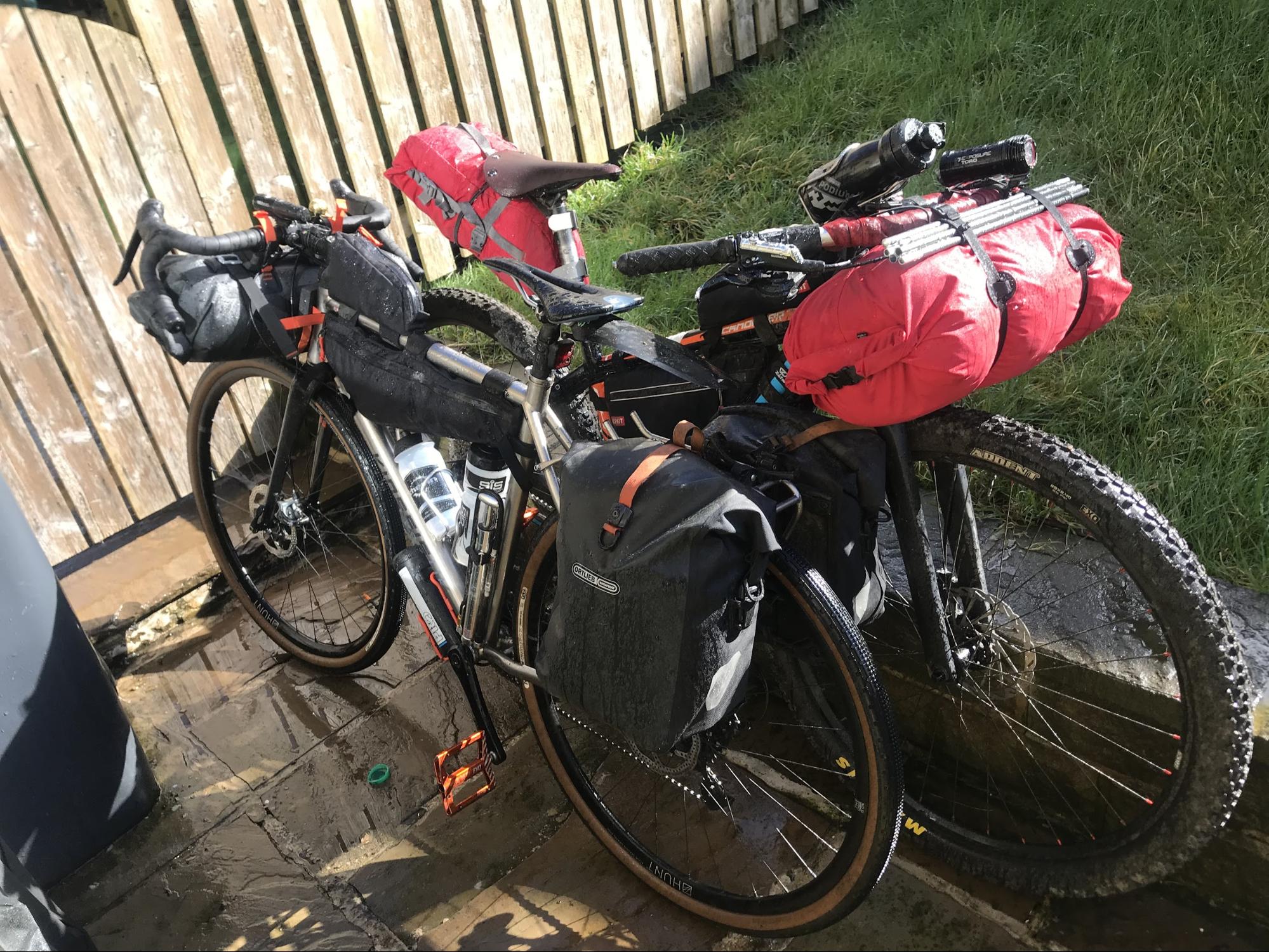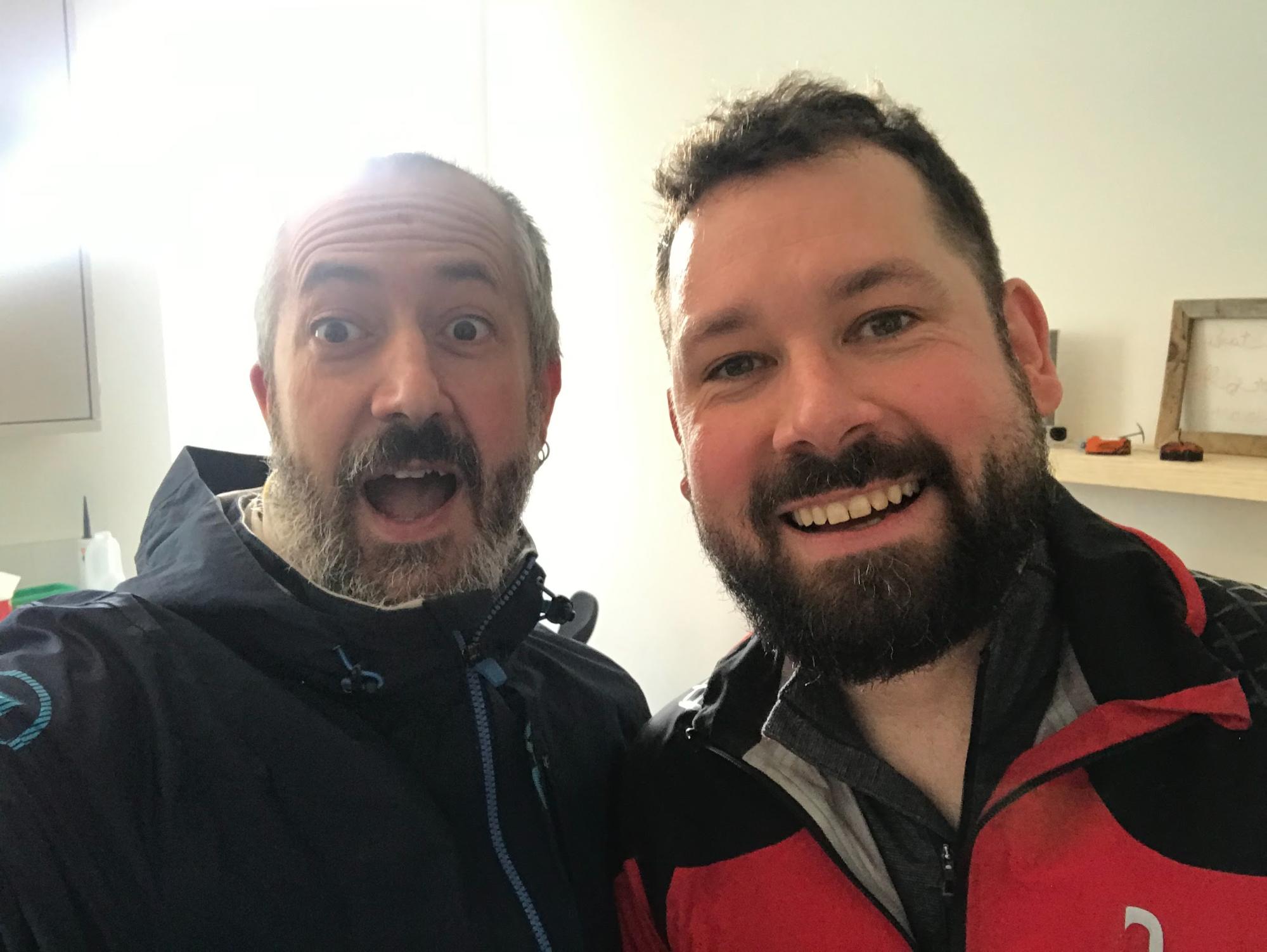 The route that Pete had planned took us on a mixture of country roads, national cycle highways and canal paths. On the first day the canals were remarkably well paved and it wasn't really all that muddy. We made good time and got to the other side of Macclesfield just as it was getting dark. We decided we'd earned a pub tea rather than camp food, so when we saw a brown pub sign (for non-UK folks a brown pub sign normally points you towards a good pub). We followed the sign to what looked like a stately home. We were slightly concerned they'd take one look at the two knackered, sweaty blokes in cycling gear and tell us to bugger off! As it turned out, we needn't have worried, and we drank several fine drinks and ate some extremely good food. It turned out that the pub used to be Lord Lucan's house, which was quite a cool bit of history!
It was getting towards kicking out time and we set off to find somewhere to camp for the first night. Which was quite entertaining in the pitch black of the countryside when you've had a few drinks! It took us a while to find somewhere that wasn't too muddy and we set up shop for the night. We were a bit near the road so it was quite noisy and I didn't sleep that well, although Pete had a good night's kip.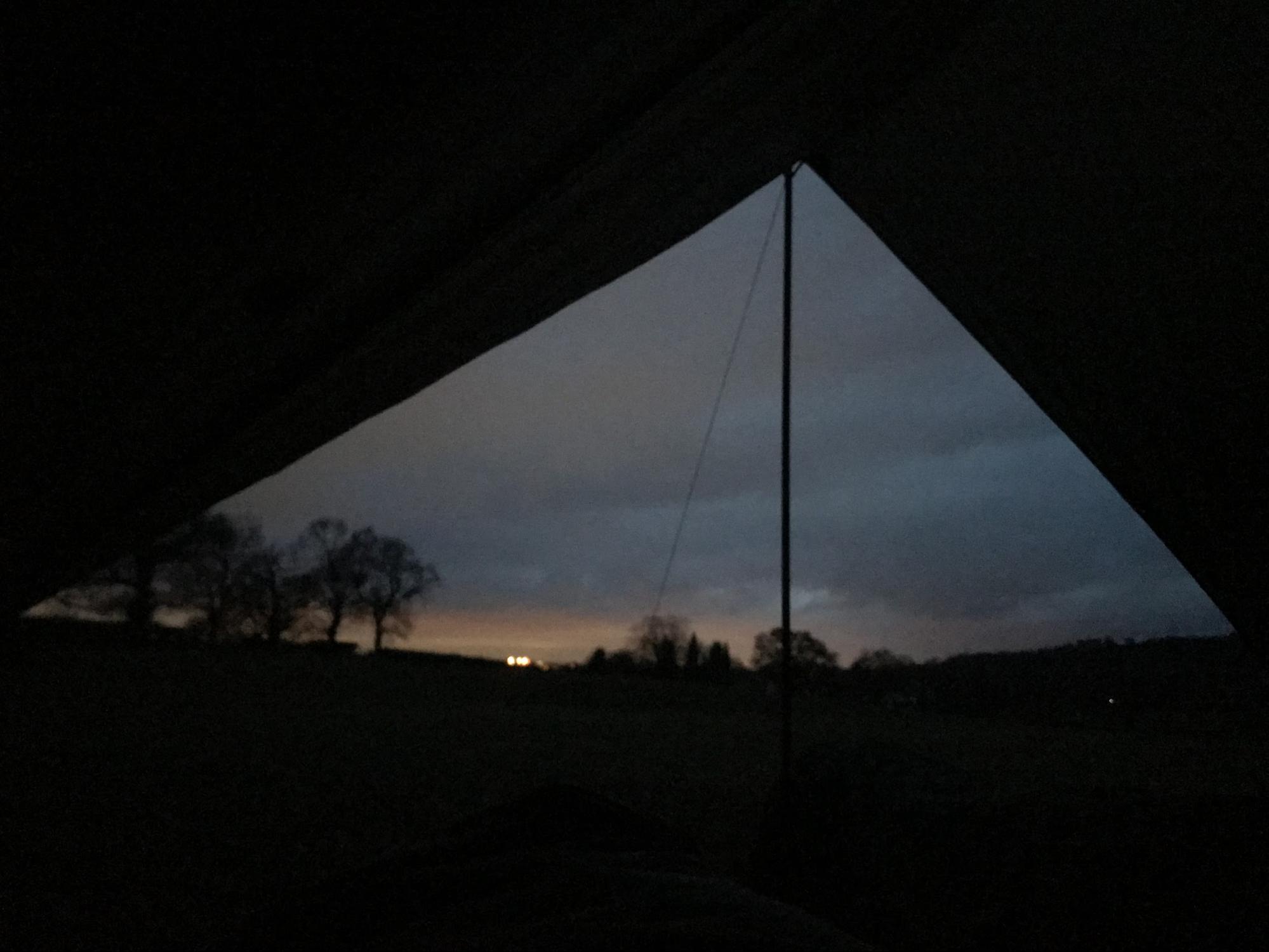 The following morning we decided to set off early as we were awake anyway. Unlike the towpaths the day before, the morning consisted of a LOT of mud, it rained a lot and it was COLD.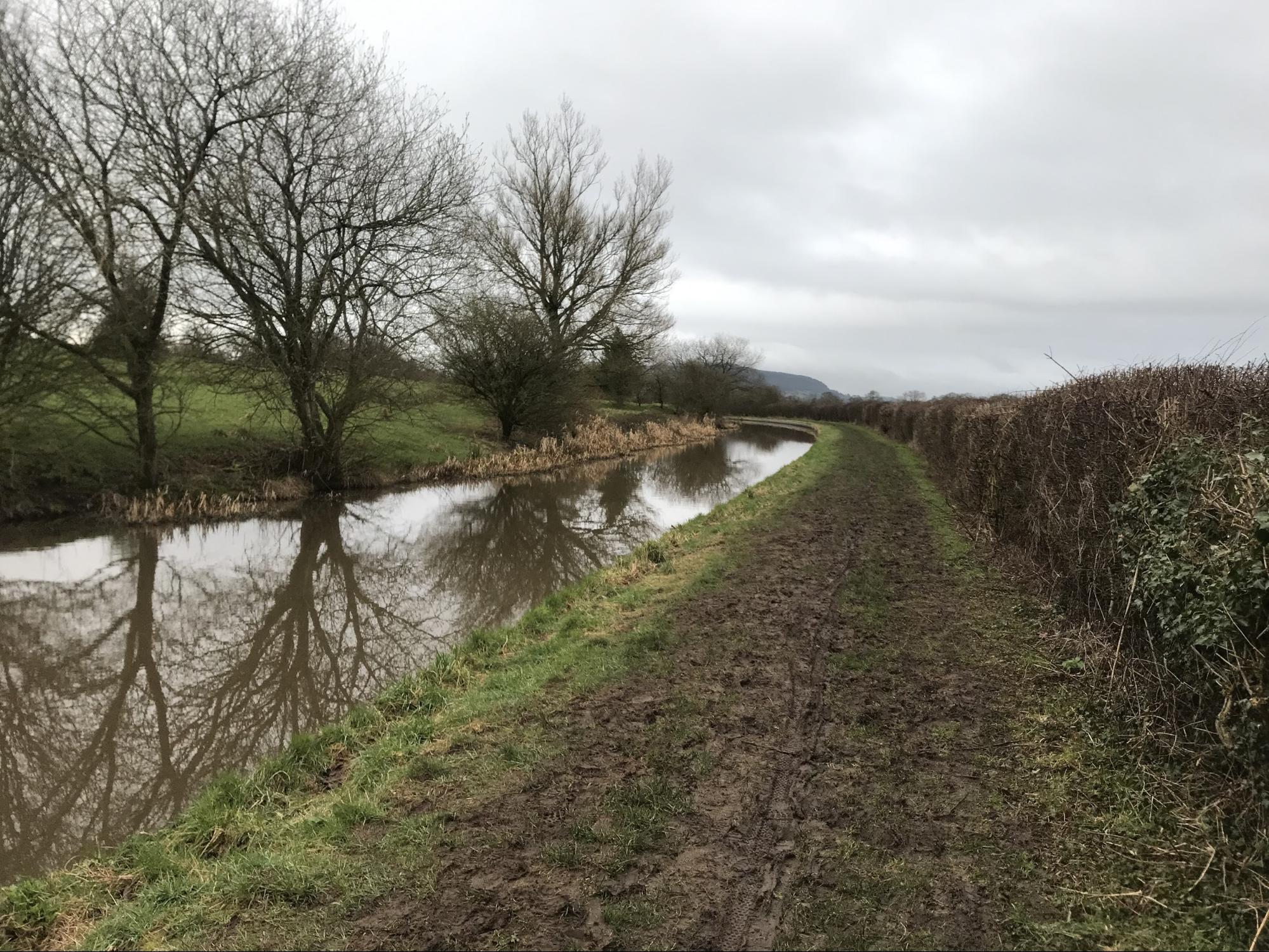 By about lunchtime we were in Stoke, so we took a slightly longer than anticipated (sorry Pete) detour to my parents house to dry out, get cleaned up a bit and sit in front of a wood burning stove for a while and warm up. My folks were kind enough to feed us several rather large egg and bacon sandwiches and several cups of much needed tea. After we'd caught up and heated up, we set off again. And not long after we did the weather went back to being lovely again. A lot of people had mentioned that we should look out for floods, but we didn't really see any, apart from one very flooded bridge on one of the national cycle paths!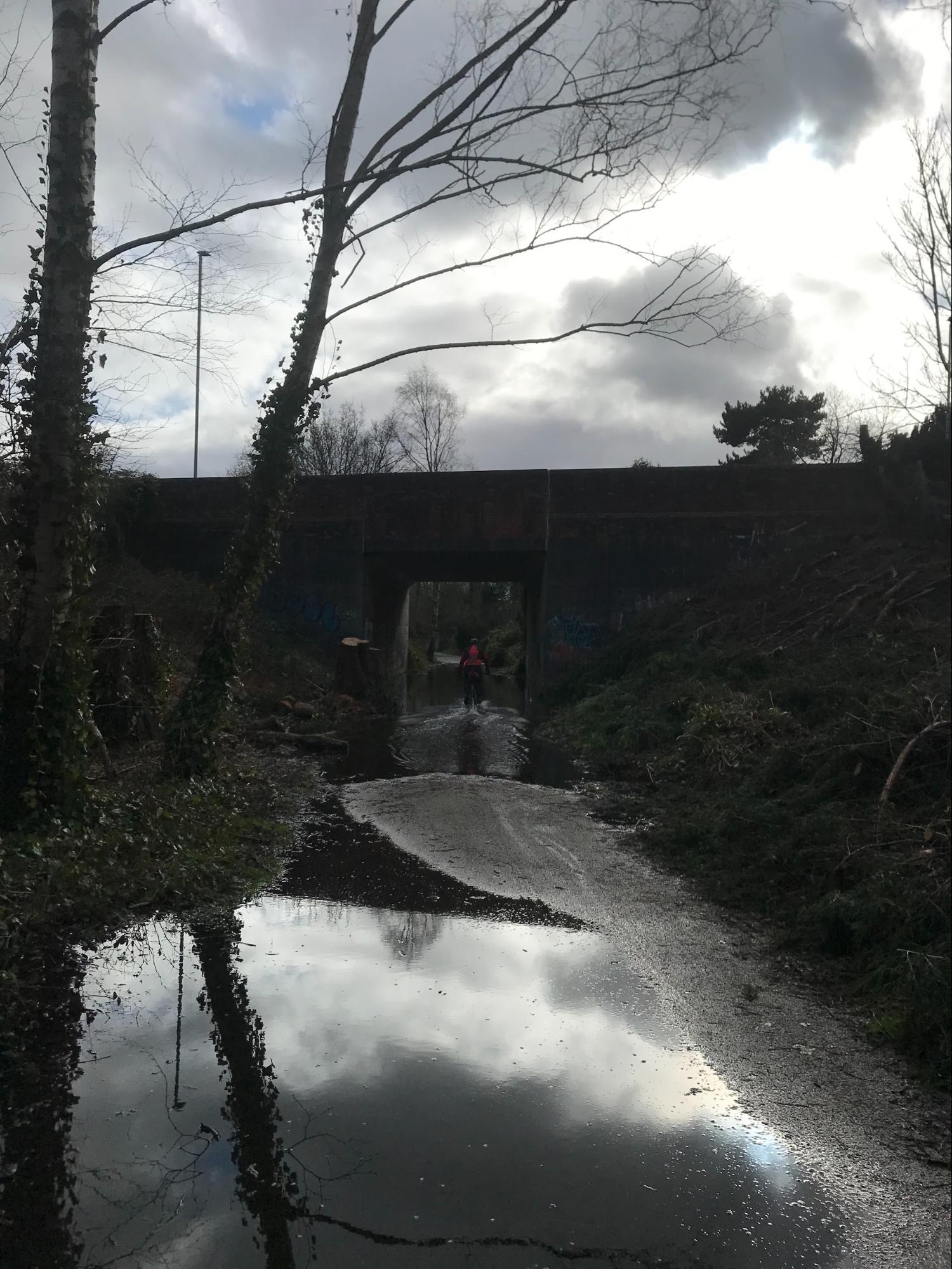 Later on, we saw another brown pub sign, and after the previous day's success, we decided to take a detour and have a look. This pub was in the Michelin guide and looked even posher than the last one. Sadly they'd finished serving food, so we sat outside and drank a very expensive (but extremely good) cup of tea and some tasty bar snacks. Pete's seat wasn't quite right, so he made some adjustments to the bike and we set off.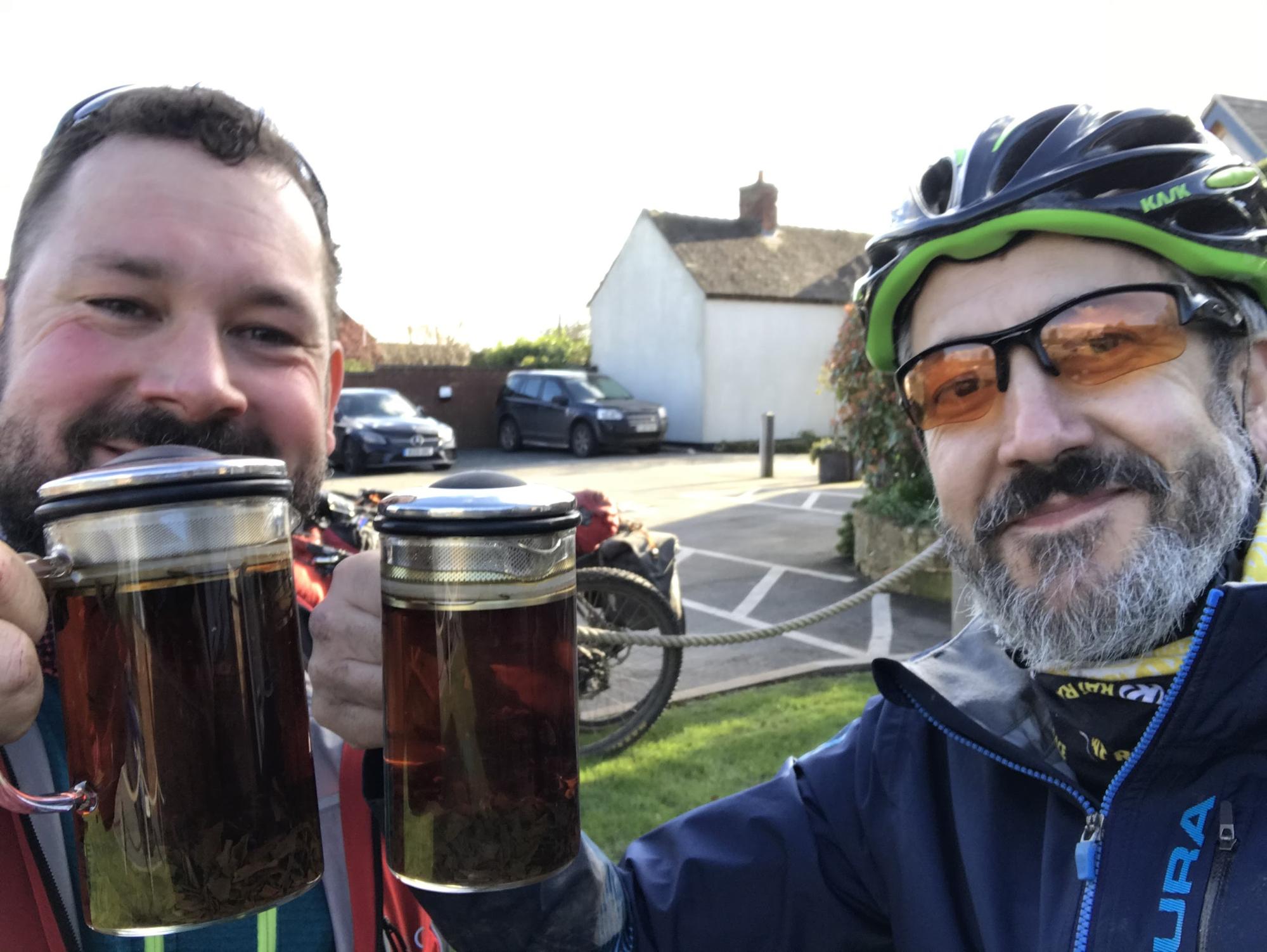 We'd decided that as a lot of the route that evening was offroad, we'd try and ride until late to cover more ground. Somewhere in the black country we found a chippy that served one of the best chip butties I have ever eaten. They part batter the chips and it was GLORIOUS.
What was slightly less glorious was the bit just on the outskirts of Wolverhampton a short while later on where I got a flat on an unlit cycle path on the edge of a housing estate. Tubeless tyres are awesome, but we fished a large nail and what looked like a shard of copper pipe out of the tyre so we decided to just put a tube in it as that would be quickest. Changing a tyre is fun at the best of times, but in pitch darkness it's even more so. Factor into it that my hands don't work properly in the cold too and it wasn't much fun at all!
While we were working a chap wandered down the path carrying a carrier bag full of booze drinking cans. Oh dear we thought, but it turned out he was on his way home from work and he "helped" us (in a very well-meaning way). He mentioned that the path ahead was really muddy and we'd probably be better off going a different way. He kindly offered to let us nip to his house and look on a computer, but we decided to press on and try and make up time!
It turned out his definition of really muddy was very, very different from ours (we'd experienced a LOT of mud during the day), and we actually managed to get quite a bit further before we decided to find a camping spot. Eventually we followed a public bridleway and found a secluded spot. We set up camp and ate camp food and had a much needed brew. I slept like a log. Pete however didn't have such a great night's sleep this time round.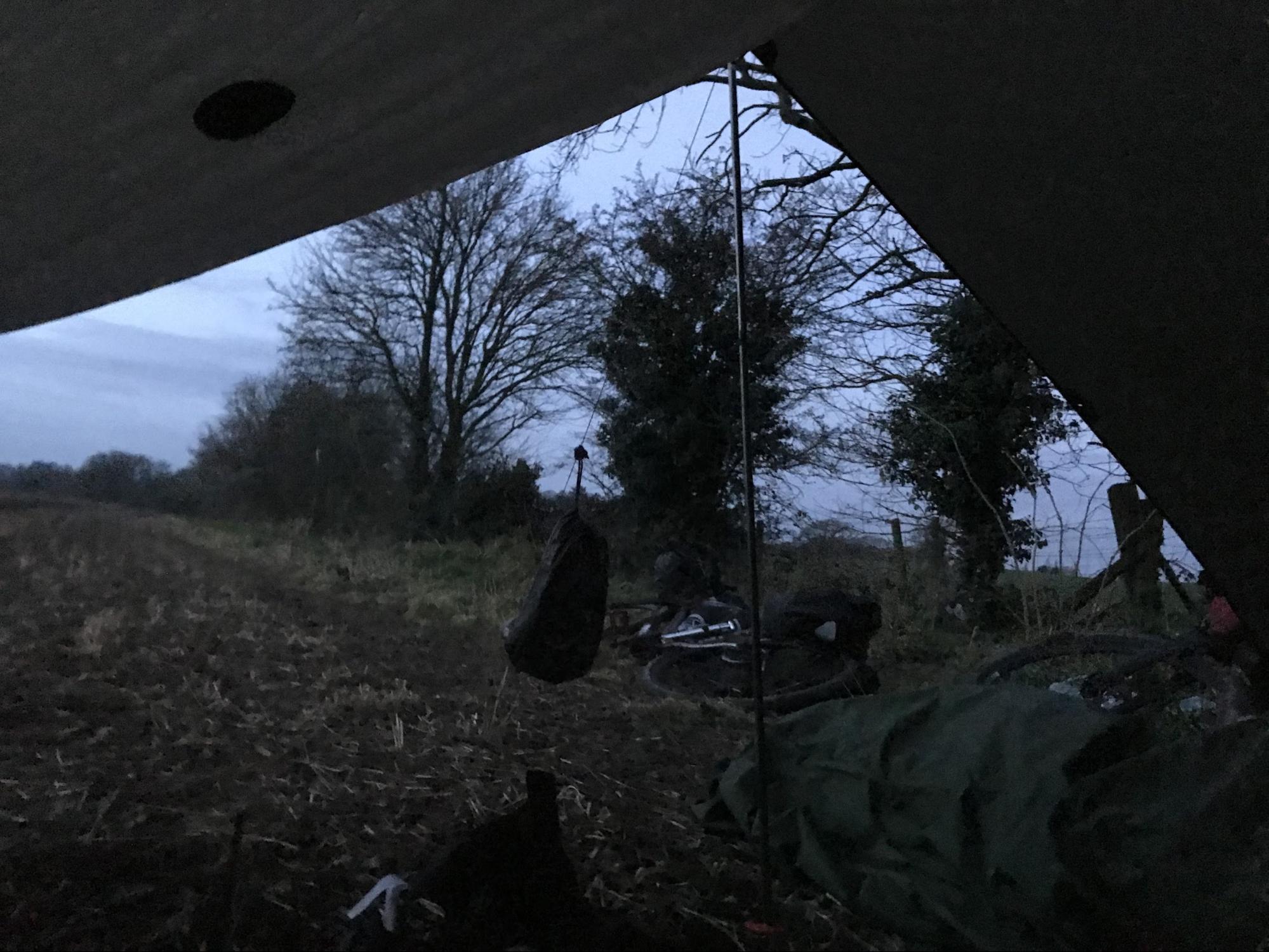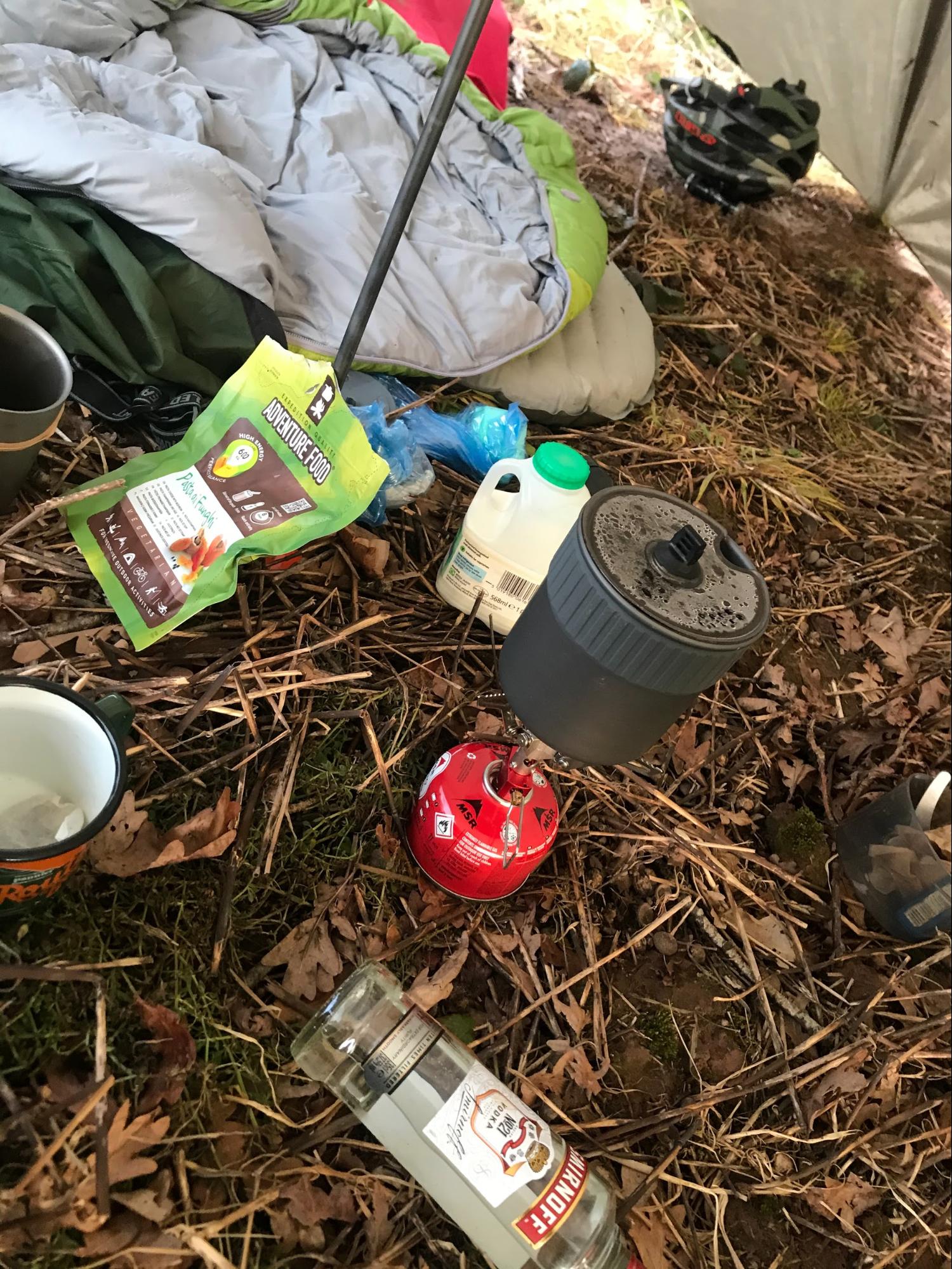 We were up bright and early again the next day and decided to crack on and find a cafe to get a hearty breakfast. Unfortunately as we set off, Pete's knee REALLY started to hurt, to the point where climbing hills was becoming a problem. And then his sat nav started behaving oddly as well. Fortunately I had a knee brace with me, which he gladly took and that seemed to help. We made it to Droitwich and found a lovely little cafe where we stopped for a massive brew and a hearty breakfast. Refuelled, we looked at our options. Pete had the round table in the morning in Bristol, so ideally we needed to get to Bristol by nightfall.
While that was technically doable, we'd have to ride pretty hard, and Pete's knee wasn't in good shape. He reluctantly decided to get the train at Worcester. I planned to cut across the country to near Chippenham to visit my cousin and his family in the delightful Cotswold Murder Village they live in (you know the sort, picturesque, but you'll get beaten to death with a jar of jam at the village fete and John Nettles will solve your murder). We cycled the last few kilometers to the station and bid each other farewell! It was sad to be leaving my rather excellent travelling companion, but he absolutely made the right choice!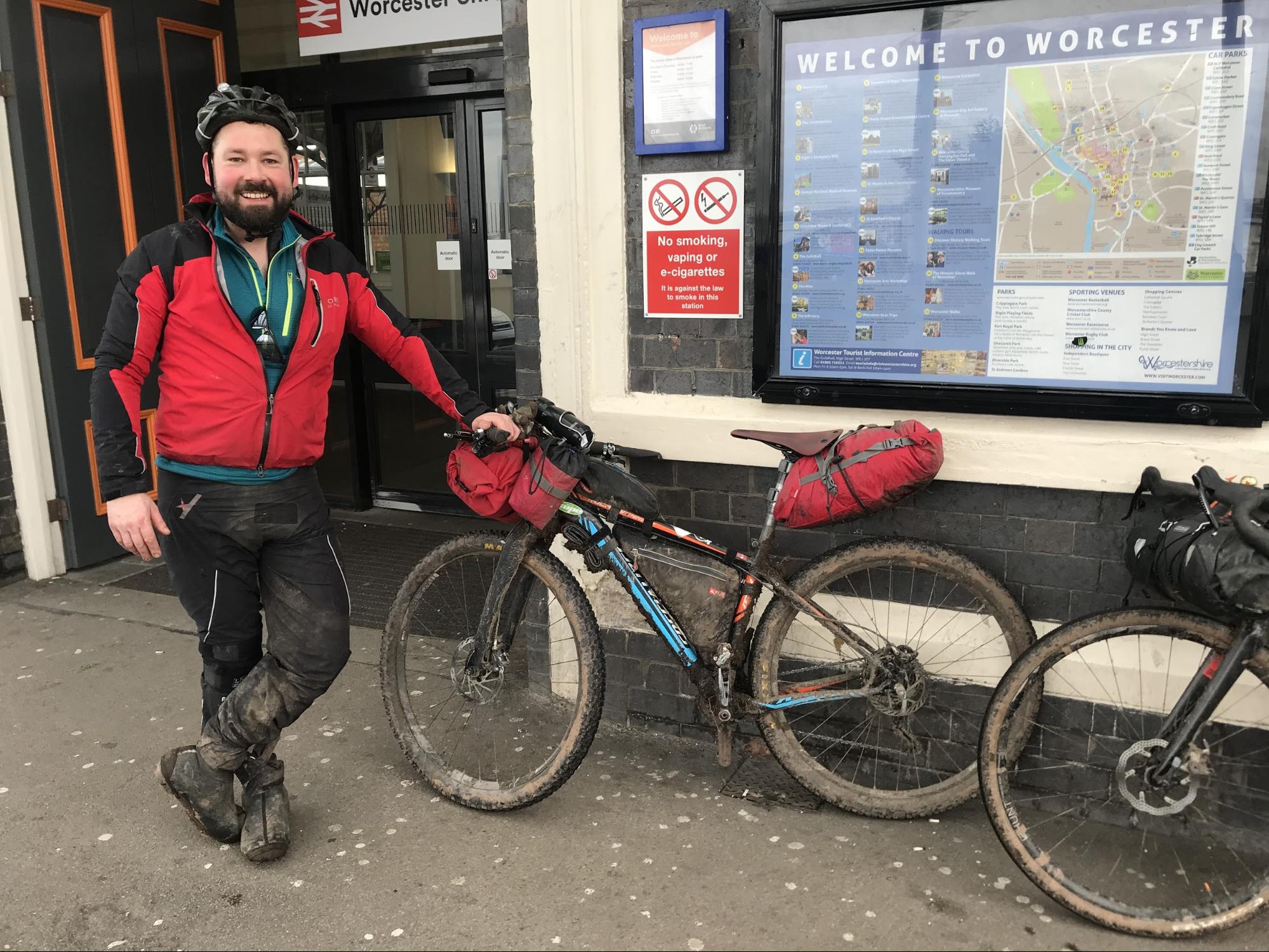 After a manly hug and some fond farewells, I set off on my detour. I'd used the navigation feature of my Garmin, but I stupidly didn't double check the route it had chosen. I was some 20km off course before I realised it was sending me back the way we'd come this morning! It was trying to send me via Brirmingham, which is some 80km out of the way. It turns out the route finding on the Garmin bike computers isn't great. Something I wish I'd known in advance. Let that be a lesson, ALWAYS double check your technology kids. By the time I'd righted my course, I'd ridden about 40km to end up back at the cafe we'd stopped at for breakfast and it was lunch time. I popped back in again (much to the surprise of the staff) and took stock of the situation. There was absolutely no way that I was going to get to my cousin's much before 10pm, at which point it'd be very dark, and the roads around there are small and unlit. I had a friend in Cheltenham, which was only about 30 miles away, I could push hard and try to get to him before it got too dark, as my lights were low on charge and I didn't want to be stuck riding at night.
I got in touch with my friend and thankfully he didn't have any plans and was happy to put me up in his flat for the night. I rode hard and got to Cheltenham just after dark. By this point I was exhausted. I could barely sit up on the saddle and I just wanted it all to stop. Carrying the bike up the stairs to his flat was not much fun. I collapsed in a heap and he fed me tea until I came back to life. I shambled over to the pizza place over the road and ate an entire family sized pizza to myself. I think I was running a fairly hefty calorie deficit by this point!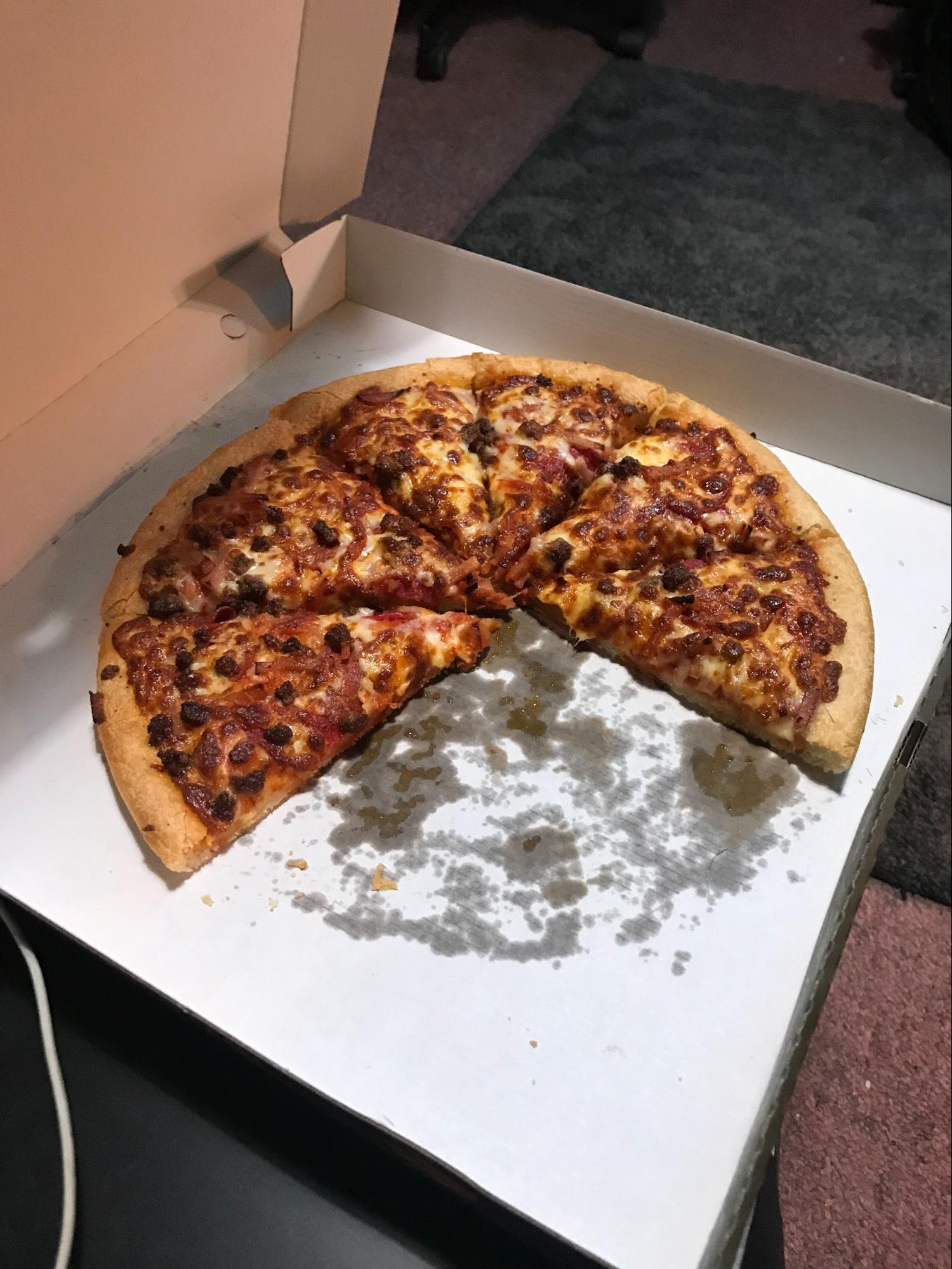 By now I'd pretty much decided to do what Pete had done earlier in the day and get the train from Cheltenham to Bristol. After an excellent evening of chatting to my friend, I collapsed fast asleep.
In the cold light of the morning, I felt much better than I had the previous evening. I ate a bunch of pastries (FOUR pain au chocolat, I was still starving hungry) and decided that actually, it was only 90km to the hotel, I could do that easily. Thanking my friend, I hopped back onto the bike and set off on my merry way. The final day of riding was quite pleasant, the weather was nice, I didn't really hit any flooding, and apart from one bit of the route where I decided to change course to avoid a horrific hill, it was all plain sailing.
I arrived on the outskirts of Bristol just after lunchtime, and made my way to the hotel, marveling at the rather excellent cycling infrastructure that the majority of Bristol seems to have. I finally got the hotel at just before 3pm, and bumped into local Umbraco legend Lee Kelleher at check in! I'd made it! 437.77km of cycling done in about three and a half days! I was knackered, but it was totally worth it! I grabbed the best shower ever and set off to get some much needed food and catch up with people!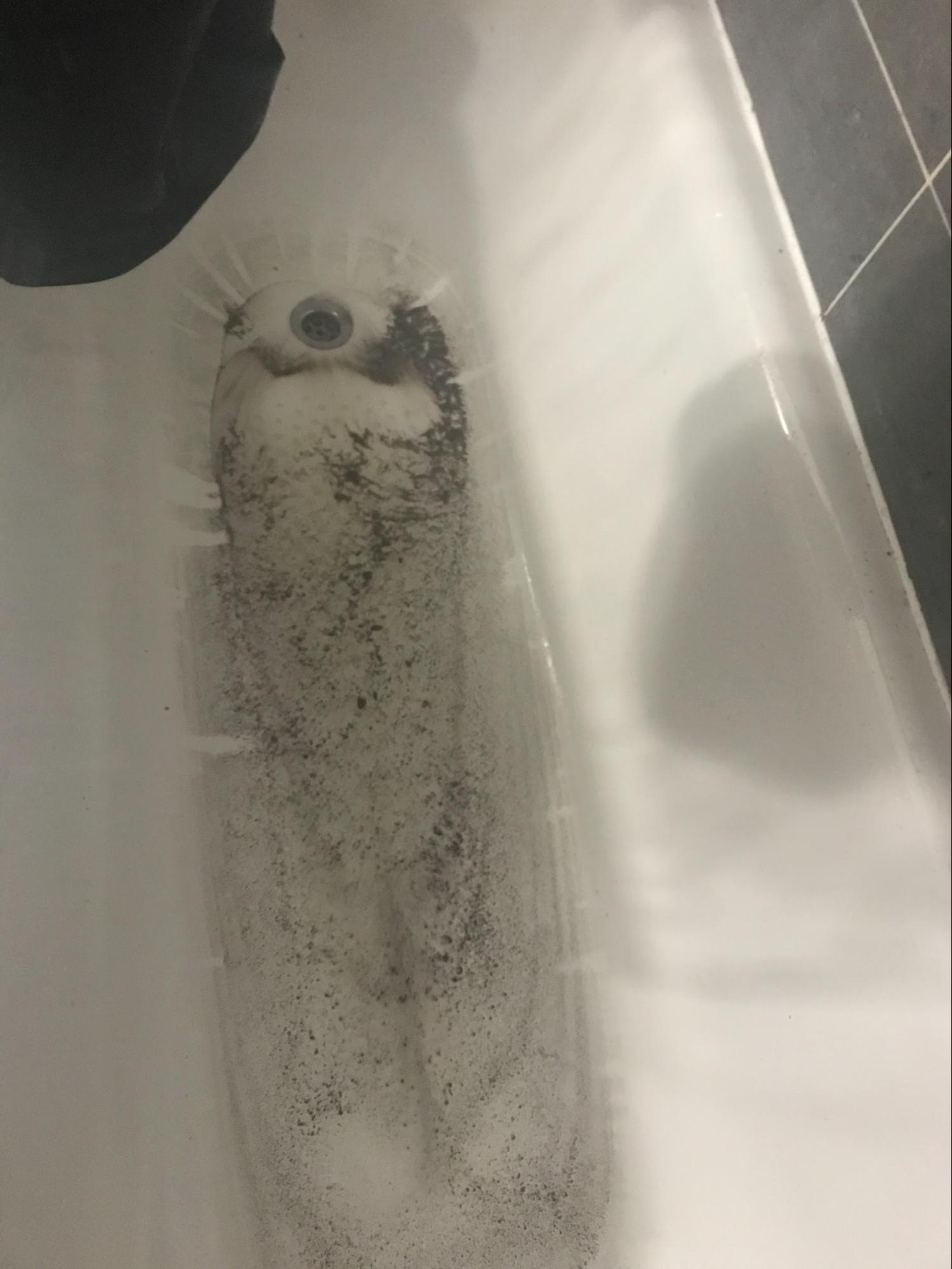 Spark was an excellent conference, I highly recommend it, I'll definitely be attending next year if I can. Given the events of the last two weeks it seems almost surreal that I managed to do this! We're now all confined to home and worrying about COVID-19. Everyone thought I was crazy to do this, and maybe it was a little bit, but you know what? I'd do it again in a heartbeat. It was a really interesting trip, I learned lots from Pete about wild camping, and we had a blast! If you do decide to do something like this, I can highly recommend Pete as an adventure buddy, he's really knowledgeable and great company!
You might think, I could never do something like that, but you know what, you probably could. A few years ago, I would never have even imagined I'd do something like this! Start small and work up to something bigger. You'll surprise yourself with what you're capable of!
So, who wants to cycle to Codegarden next year then?